"Let's rock!"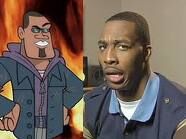 Rodney "Rock" Callahan is one of Kick and Gunther's many idols. He is an actor.
He first appears in "Obsession For Kick" as an image on one of Jackie's fanclub cards. His first speaking appearance is in "Box Office Blitz" as a movie character in the film "Rock Callahan's Zombie Motocross". In "Exposed", jumping from an opening bridge, he considers his sunglasses irreplacable like Kick's helmet. In "Rocked", he plays the role of Kick Buttowski.
He's voiced by Kevin Michael Richardson in "Box Office Blitz" and Dwight Howard from "Mow Money" onwards.
Personality
Rock's catch phrase is "Let's rock!", which he says while cracking his neck.
Trivia
The first movie of Rock's career is "Perseus in Pittsburgh" as shown in "Sleepover".
In the aforementioned movie, his catch phrase was "Let's boogie!"
Rock Callahan is based on Dwayne Johnson, also known as "The Rock".