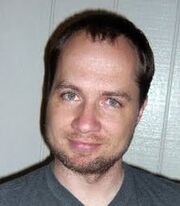 Christopher Mason "Chris" Savino
(born October 2, 1971) is an American animator. He has worked for Spümcø, Nickelodeon Animation Studio, Hanna-Barbera, Cartoon Network Studios, and Nickelodeon and is currently planning a live-action short called
Bigfoot & Gray: On the Run
and an animated film called
Adventures in Milk
. He worked as director and executive producer in
Kick Buttowski: Suburban Daredevil
and creator of Nickelodeon's
The Loud House
.
Filmography
Television
Film
Internet
Sexual harassment allegations
On October 17, 2017, Cartoon Brew reported that Nickelodeon had suspended Savino from their studio due to multiple allegations of sexual harassment against him; rumors of Savino's inappropriate behavior had existed for "at least a decade".[4] As many as a dozen women accused Savino of sexual harassment, unwanted sexual advances, and threats of blacklisting female colleagues who no longer agreed to consensual relationships with him.[4][5] On October 19, a Nickelodeon spokesperson confirmed that they terminated Savino's contract, and that The Loud House will continue production without him.[5][6] On October 23, Savino spoke for the first time since the allegations first appeared, saying he was "deeply sorry" for his actions.[7]
Community content is available under
CC-BY-SA
unless otherwise noted.